Our Goal is to have fun!
We both enjoy this genealogy as a hobby. Just something to do that is exciting and a great reason to get together.
My name is Annie
I would like to introduce myself, I am Annie, I have been married for 40 yrs., have 2 grown children, and 5 grandchildren. I am lifelong friends with my partner, Cheryl,, in this Great Ancestry Hunt that we do together. I have an Associate Degree Secretarial Skills. This experience and being able to use the skills I was trained to do is so exciting. I feel so grateful to be able to help others with their family search.
My interest in Ancestry goes back to my childhood. I was raised in foster homes and never knew my own heritage. I knew my parents name, but didn't know most of my extended family or history. I wanted to learn my own history and with the help of my friend we researched into my own family history. I was so fascinated and intrigued at the information I had found, and the connections to the past that I had recovered.. I want to offer my skills to others to help everyone find their family history and to make sure their loved ones are never forgotten. I look forward to helping you open up your history file and find wonderful, exciting things about your history and heritage.
My name is Cheryl
I am married with 2 sons, 1 daughter, and 1 step daughter. My husband and I have 7 grandchildren and 2 step grandchildren between us. I love to shop and vacation! I started researching my family roots about 6 years ago and it has bloomed into a much bigger project than I ever thought possible! After gathering everything from my ancestry hunts, I thought that It would be such a great idea to put it all into a book so that the rest of the family could have it and pass it on to their children! So, being the great writer that I am not, I set out to do just that, and with a little help from my friend Annie, I accomplished my goal!! Now we both work together and have started on her and her husband's books! Genealogy is now at the top of my list of hobbies!!
We get a little nostalgic
all are welcome to hunt with us!
Below you will see us with an extra person, Steve Bish, Anne's husband. He goes with us from time to time and helps us search for documents for the people we are researching. He just recently found an original marriage certificate for his great great grandparents in a courthouse we were visiting! We always welcome those who want to help in our searches!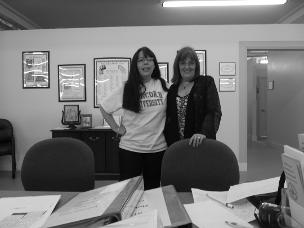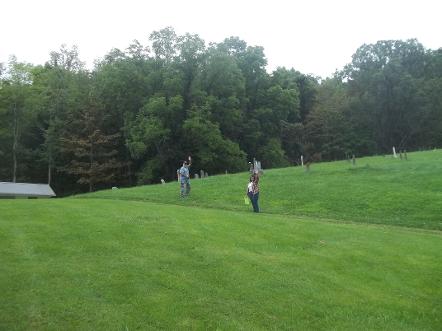 Copyright Ancestry Bookstore Virginia